RadarNow!
6.6
A Great Weather App with a Live Radar
Weather apps are extremely helpful in preparing you for the coming days. It helps you decide on whether you can perform the tasks that you want to perform without any issues or not. It also helps you prepare contingencies on how to fight any weather emergency which is expected in the next few days. Whether it means to be prepared to heavy rains or snowfalls or for extremely high temperatures, the information can prove greatly helpful in scheduling your tasks in a manner that you will be able to perform them appropriately without letting the weather getting in the way of you. Weather apps which have a live radar are far cooler and more reliable and this is why an app like RadarNow can prove to be of great use on your phone.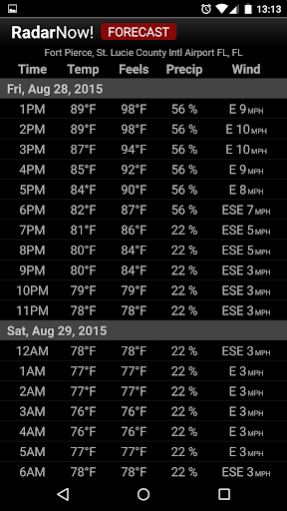 The RadarNow app is basically a well-refined weather news app which can keep you in touch with the weather details in your area and in the United States overall. It uses radar images in order to gather data about the weather and whether it is possible that rain, heavy winds, high temperatures or snowfall is going to follow in the hours/days to come. The fact that you can see the live radar pictures yourself, you can also get a mental picture of what is coming and that the app is using authentic data in order to provide you the information it is providing. It also helps you mark out locations which are at the precipice of any type of rough weather while you can also easily find out locations which are less likely to get affected with the radar images.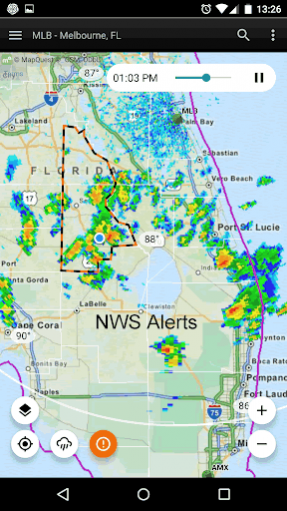 The RadarNow app uses authentic images from the radar sites established by National Weather Service. The images captured are always upto date and this means that the data you gather from the live radar images is both authentic and the freshest one possible. The issue with most other weather apps is that you are never sure whether their data is actually factually correct and whether the data you are seeing is up-to date or not. RadarNow fixes those concerns with solid live reporting using authentic images from the National Weather Service.
The app does not only show you radar images but also provides all the other data like wind speeds, temperature etc. at particular times for particular locations. This means that you can prepare for rough weather in the right manner. For instance, you can look at both the current conditions and the forecast for a particular city that you might be planning on visiting soon. You can see if the conditions would be better in the night or in the day and plan your flight and activities accordingly.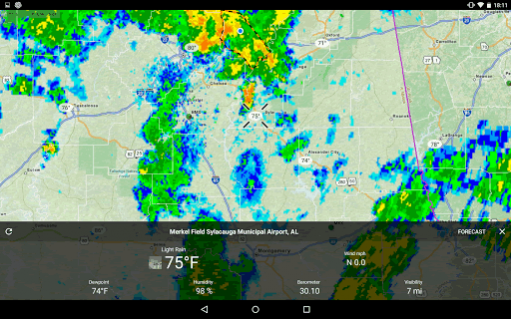 The app has a free and a premium version and every user is allowed to use the premium version for five days free of cost. This is great as the trial helps you decide whether you should be paying extra cash to get the premium version of the app or not.
The app's focus on privacy is also very impressive and it goes to great lengths to ensure that your data stays private at all times. The app does not track any information and only requires location in order to ensure that it can provide you the correct information for your location. The focus on privacy though is great as most other apps are extremely intrusive in this regard.
Features:
Easy to use
Great forecast feature that provides all weather details in a great breakup format
Fantastic live radar images which are both authentic and up-to date
Nice trial version that lets you see what you can get with a premium version of the app
Lovely focus on privacy with no tracking of your personal data done
Conclusion:
RadarNow is a great weather and live radar app that uses radar pictures to help you get all the info you need on the weather conditions. A great user-interface, nice technical support and fantastic forecast feature all offer great reasons for you to download and use the app!
---
Add a review
Tell us your experience with
RadarNow!
6.6
RELATED PROGRAMS
Our Recommendations
---
---
---
---